On March 10th, 2018, the Showa Cellar of the Kawagoe City Industrial Tourism Museum "Koedo Kurari" was remodeled and reborn into a facility where you can freely taste local sakes from Saitama Prefecture.
It is a very fun spot, but please be sure to drink responsibly!
Japanese
埼玉35蔵の地酒を利き酒!小江戸蔵里 昭和蔵ききざけ処で角打ち

続きを見る
For those of you thinking "just tell me how the system works" please click here。
A first in Saitama Prefecture! Brought to you by the Prefecture's Local Sake PR Facility "Kikizake Dokoro"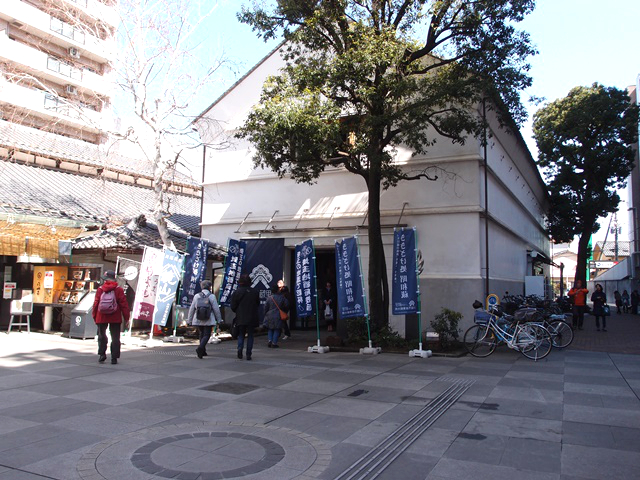 On March 10th, 2018, the Showa Cellar "Kura Ichiba" inside the Kawagoe City Industrial Tourism Hall's "Koedo Kurari" underwent remodeling and is now the "Kikizake Dokoro".
It is a place where sake from all of the sake breweries in Saitama have been brought together in one building and is the first attempt within the prefecture of the establishment of such a facility.
In addition to coin-operated vending machines that allow you to freely compare local sakes one after another, there is a "Hakkou Bar section" at which you can enjoy fermented foods and a souvenir section that sells sake-related goods such as sake accessories, cosmetics, bath salts and more.
As it also sells things like "amazake (sweet sake)" and soft serve ice cream, those who do not drink alcohol can also fully enjoy themselves!
川越市の小江戸蔵里の昭和蔵がリニューアルされ、ききざけ処として本日オープンしました。
開店に先立ち式典が行われ、私は議会代表の祝辞を、飯島副知事も参加して上田知事の祝辞を述べました。
飯島副知事は私の小学・中学の一学年上の先輩になります。 pic.twitter.com/3PV3rG3m5U

— 大泉 かずお (川越市議会議員) (@mizuyokazuo) 2018年3月10日
At the opening ceremony, the mayor of Saitama Prefecture came to visit.
What is "Koedo Kurari"?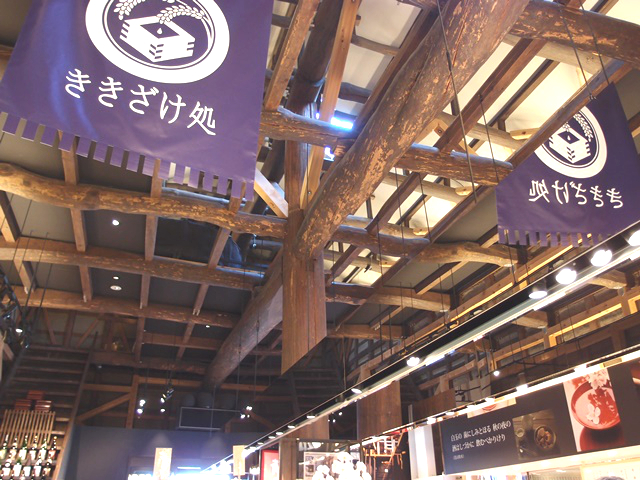 Koedo Kurari is a city industrial tourism facility in the refurbished former building of the Kagamiyama Shuzo Sake Brewery founded in 1875.
On the premises there are three Kura (cellars) that have been designated as tangible cultural properties of Japan.
The Meiji Kura: A cellar built in the Meiji Era. A souvenir shop.
Taisho Kura: A cellar built in the Taidokoro Period. (Restaurants) Makani Dokoro.
Showa Kura: A cellar built in the Showa Period. Also known as the Moto Kura Ichiba (market) (which sells locally produced vegetables etc.).
You can do a tasting of local sakes at the Showa Kura.
As a matter of fact, Saitama Prefecture is one of the best sake spots in Japan
Actually, Saitama Prefecture is known for being one of the top 5 sake spots in the country.
In the sake shipping volume ranking which is released every year, it is almost at the same level as Akita Prefecture, which is known as one of Japan's best sake spots.
Depending on the year, it sometimes beats Akita Prefecture in terms of shipping volume.
The Koedo Kurari "Kikizake Dokoro" was created to spread the culture of Saitama Sake to many people.
Drinking too much is strictly prohibited, but if you compare and learn about the various local sakes and think that "Saitama Prefecture also has sake that is this delicious", it would make me happy as a citizen of Saitama.
Winner of a GOLD Medal at the IWC 2018 SAKE Awards!
In May of 2018, local sake from Saitama Prefecture received a Gold medal at the "SAKE Awards" of the "IWC (International Wine Challenge)" held each year in London! (Total number of sake bottles exhibited: 223)
GOLD Medal
「力士 大吟醸 袋しぼり 斗瓶囲い」Rikishi daikinjou fukuro shibori tobingakoi (Kazo City)
「帝松 大吟醸 原酒」Mikadomatsu daikinjou genshu (Ogawamachi)
「界」Sakai (Saitama city)
Silver Medal
「文楽 純米大吟醸袋吊無濾過原酒中汲み」Bunraku junmaidaiginjou fukurotsuri mu roka genshu nakagumi (Ageo City)
Bronze medal
「文楽 純米吟醸」Bunraku Junmai Ginjo (Ageo City)
「文楽 純米大吟醸」Bunraku Junmai Daiginjo (Ageo City)
「菊泉 大吟醸」Kikuizumi Daiginjo (Fukaya City)
A brief explanation of the Kikizake Dokoro system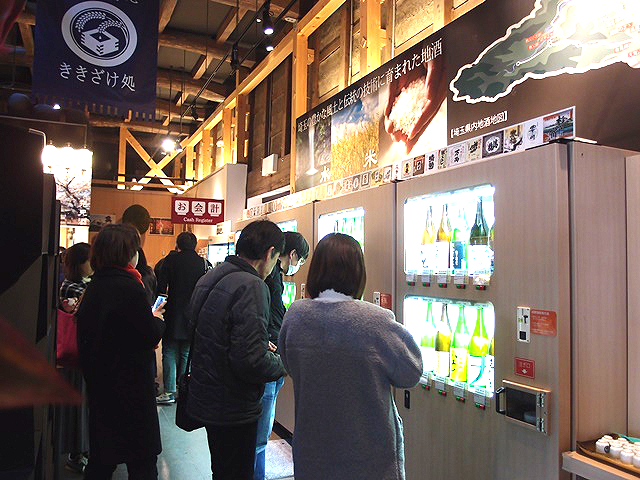 Within the facility special medals are used.
Cash cannot be used except for purchasing souvenirs.
First, buy medals from the "Nomikurabe you (for drink comparing) medal vending machine (it only accepts 500 yen coins)".
Each 500 yen coin allows you to purchase 4 medals.
If you do not have a 500 yen coin, please change a 1,000 yen bill in to two 500 yen coins using the exchange machine located right next to the medal machine.
Bills that are 2000 yen or larger can be exchanged at the "register" section.

Get an ochoko (cup for drinking sake) from the case next to the medal machine.
Put a medal into a "Kiki Zake" sake tasting vending machine and place the ochoko in the guided position.
Select your desired sake and press the button.
After the sake has been poured into the ochoko, carefully take out the ochoko.
You can purchase snacks (that go with alcohol) at the shop located on the opposite side across from the counter.
Snacks require 1~3 medals depending on the snack.
Leftover medals can be exchanged and used to purchase water or rice crackers (for 1 medal) at the shop.
The main points are summarized below.
Get 4 medals with a 500 yen coin.
One cup of sake costs 1 medal.
1 to 3 medals are required for snacks.
Leftover medals can be used to purchase items that can be taken home.
...In short, for a 500 yen you can...
get 4 cups of sake

OR
You can enjoy

2 cups of sake + 1 snack item

(depending on the snack)
However, since you can purchase as many medals as you like, in reality, there are a number of a ways to enjoy yourself.
You can also make nurukan and atsukan with a hot water bath
On days when the hot sake machine "kan douko" is available, you can enjoy warm sake (nurukan) or hot sake (atsukan).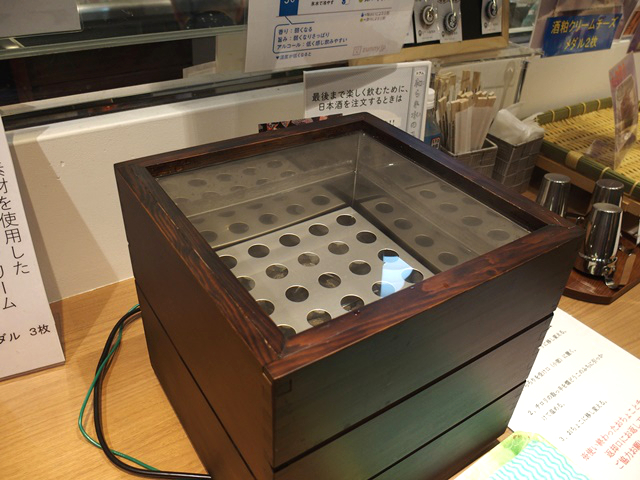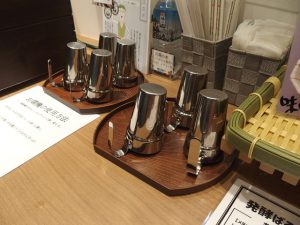 Usage is as follows.
Get an ochoko with sake already in it.

Pour the sake from the ochoko into a "chirori".

Place the chirori into the Kan douko to warm it up. You just need to hook the handle of the chirori into the edge of the Kan douko


Use the (1 minute) hourglass next to the kan douka to keep track of time.For warm sake (nurukan) warm it for 1 minute and for hot sake (atsukan) warm it carefully for 2 minutes.

Take out the chirori after the desired amount of time and pour the sake back into the ochoko.

Please return the used chirori to the same return slot as the ochoko.
+ Here are the recommended sake brands for consuming cold, warm and hot! (Click or tap to open and close)
Recommended for hot sake (atsukan)
「神亀」Shinkame
「秩父錦」Chichibu Nishiki
ぬる燗向け
「寒梅」Kanbai
「天覧山」Tenranzan
「金紋世界鷹」Kinmon Sekaitaka
Recommended for cold sake (hiyazake)
「帝松」Mikadomatsu
「花陽浴」Hana Abi (Extremely rare. Most likely only available during events)
「金紋世界鷹」Kinmon Sekaitaka
「亀甲花菱」Kikou Hanabishi
How to enjoy Kikizake Dokoro Showa Kura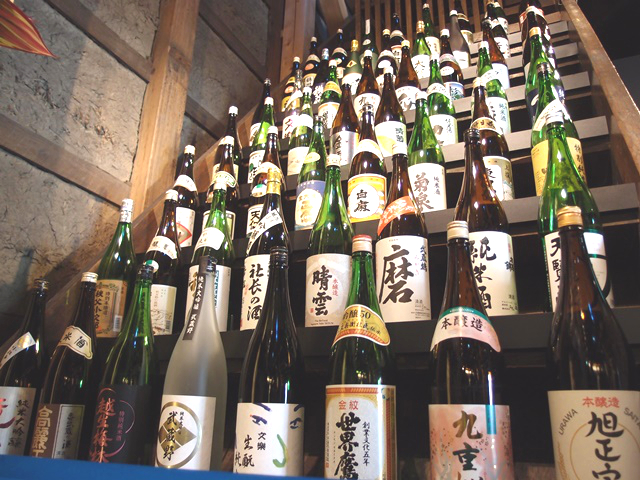 When I enthusiastically visited on opening day, I became the 1st regular customer.
The full experience of a Japanese sake spot right from the entrance!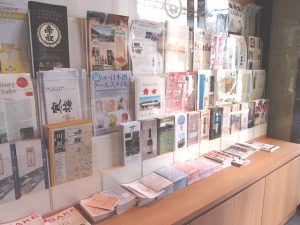 The entrance is loaded with pamphlets from each sake brewery.
English versions are also available so even those visiting from overseas can learn about the sake culture of Saitama.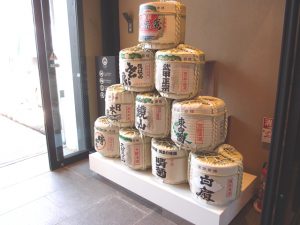 On the other side is a pile of sake casks.
A perfect place for taking a commemorative photo.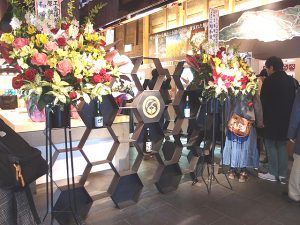 The unique design of the partition is also worth paying attention to.
Enjoy the sake tasting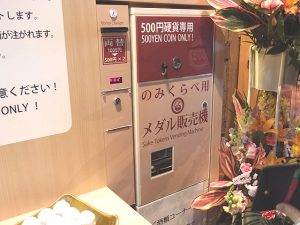 "Nomikurabe you (for drink comparing) medal vending machine".
You can get 4 medals with a 500 yen coin.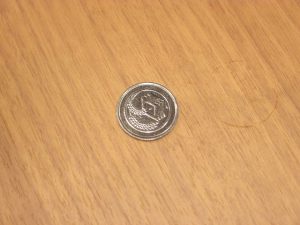 These medals are the currency of the Kikizake Dokoro.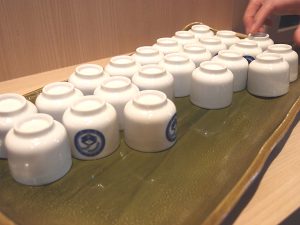 After you get a medal, get 1 ochoko.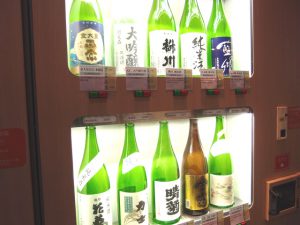 This is a coin-operated vending machine for sake.
There are four machines in total (Each machine has 10 brands, so there are 40 brands in total), so search for a machine with your favorite sake brand.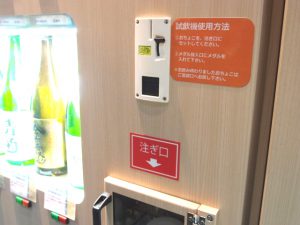 Insert 1 medal into the coin slot.
The vending machines you provide 1 cup of sake per 1 medal.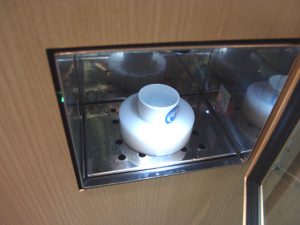 Open the door just under the slot and place your ochoko inside.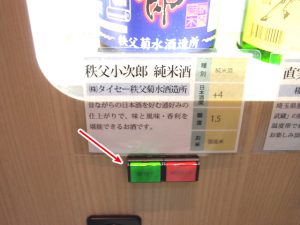 If you press the green button, sake will be poured into the ochoko.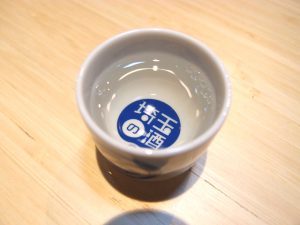 The sake fills the ochoko to the brim.
I thought I was going to spill it, so I drank some as soon as I took it out of the vending machine.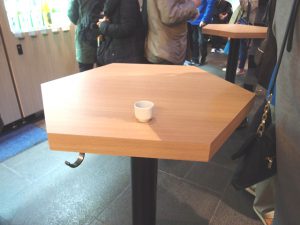 Stylish tables.
Recommended for drinking with groups of people.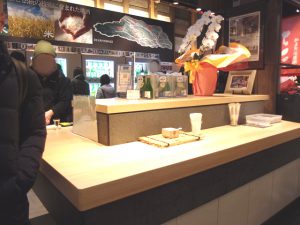 There is also a large counter.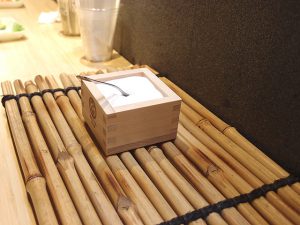 On the counter there is salt in boxes.
This is not good!
Guys who can drink their sake with salt alone were very pleased about this.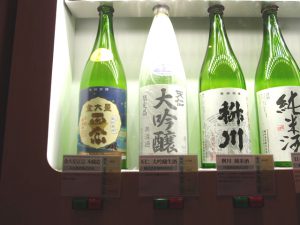 Yokozeki Sakazo Sake Brewery's (Misatocho) "Tennin Daiginjo", was the most popular brand on opening day.
Although it's only an ochoko, it's quite a deal to be able to drink this Daiginjo at the price of 125 yen.
Snacks, amazake (sweet sake) and non-alcoholic beverages are available at the shop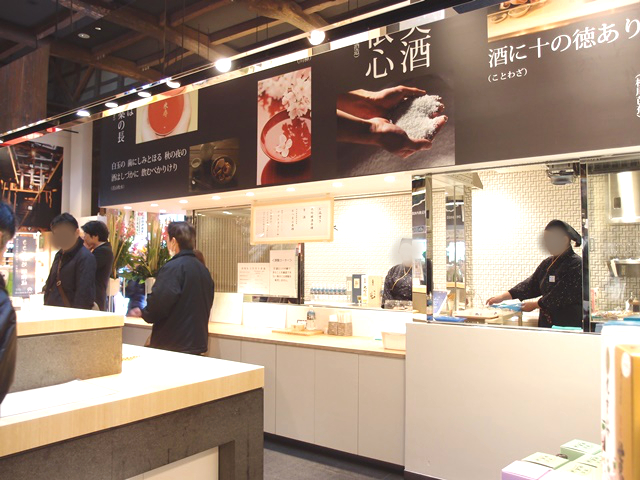 At the shop, you can exchange your medals for snacks made from local vegetables from Saitama Prefecture, soft serve cream and non-alcoholic beverages such as water, Amazake, and more.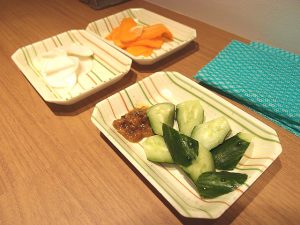 Snacks
Marinated Carrots · Pickled Turnip · Morokyu (cucumber with oname sauce).
1 plate can be purchased for 2 medals.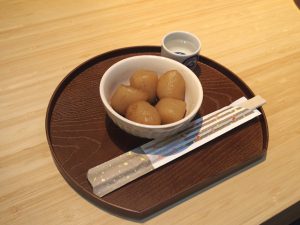 Healthy tama konnyaku (konjak dumplings)
A perfect complement to Japanese sake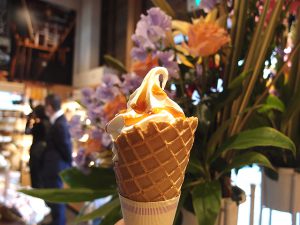 The sweets are also authentic!
Mitarashi flavored Ice Cream ("soft serve soy sauce flavored ice cream", 3 medals) made with Matsumoto Shoyu (soy sauce).
When I got my ice cream cone from the clerk, I thought "there isn't much ice cream in this cone...", but it was jam packed from the bottom of the cone to the top.
About Matsumoto Shoyu

はつかり胡麻ドレッシングが大人気!松本醤油商店の蔵を見学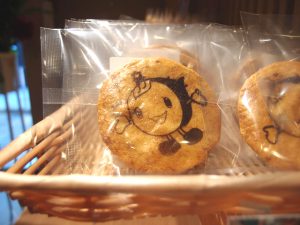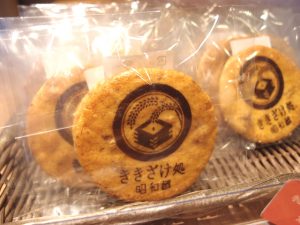 Print senbei rice crackers can be purchased for one medal.
Ideal as a memory or souvenir.
Slightly expensive sakes are available at the shop
Local sakes can be purchased at the shop starting at 2 medal.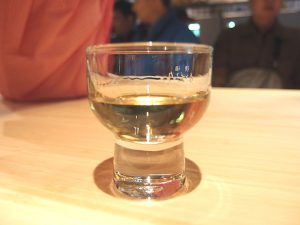 The brands that are available change monthly.
This time I got the Kinmon Sekaitaka Daiginjo (3 medals).
Mmmm, just as I thought, it's easy to drink it.
Get your favorite local sake as a souvenir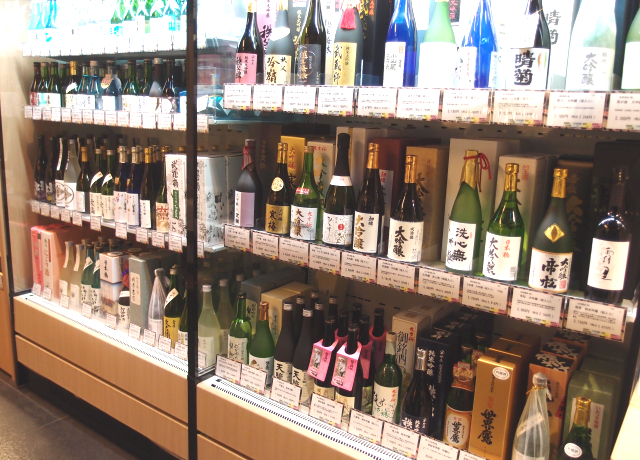 It is also possible to purchase local sake as a souvenir and take it home.
In addition to Japanese sake, you can purchase fruit liqueurs such as plum wine and Yuzu liqueur produced in Saitama Prefecture.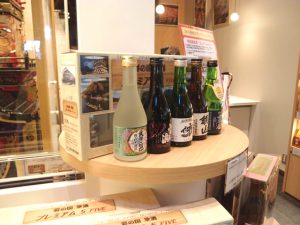 "Aya no Kuni Jizake Premium 5 FIVE" is the recommended set for those who "want to drink various types of local sake".
It comes with selected popular brands.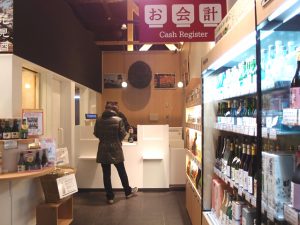 You pay at the "register" section.
Cash is used here.
Other than the local sake souvenirs, there is the "Hakkou Bar" (Fermentation bar)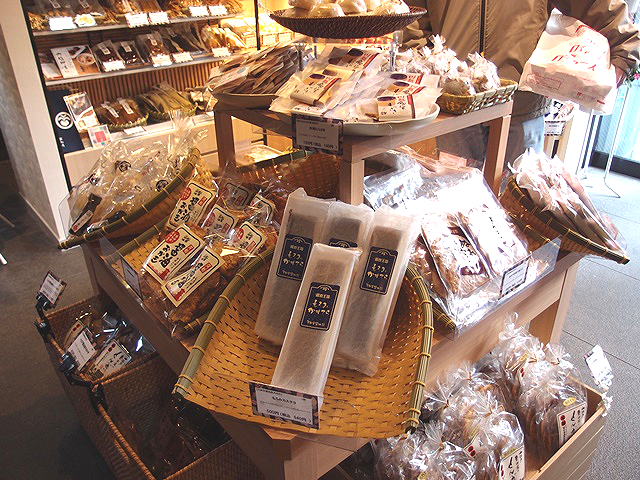 At the "Hakkou Bar" section, you can buy fermented foods produced in Saitama Prefecture.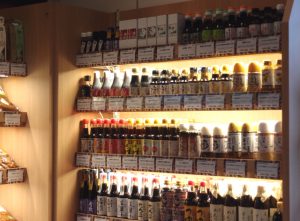 Soy sauce produced in the prefecture and related products are available.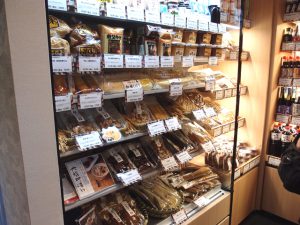 There is lots of miso and pickles pickled in soy sauce available as well.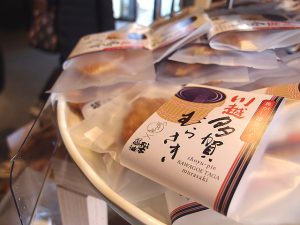 There are also many snacks!
Since these are all souvenirs, you can pay for them with cash at the "register" section.
Also, it is not permitted to open and eat things purchased from this section inside the building.
※ Of course, it is ok to eat them at the benches outside the building!
Enjoy souvenirs other than food and drink
The souvenirs aren't just local sakes and fermented foods.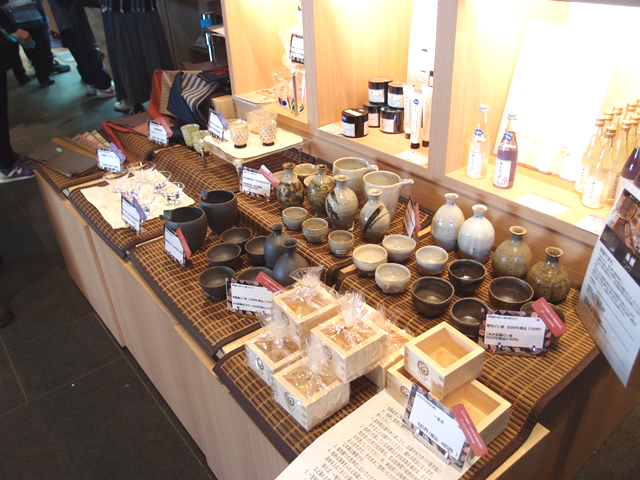 You can also purchase drinking accessories made at Kawagoe City's "Touho Yamawa" and "glass Art Blue Moon".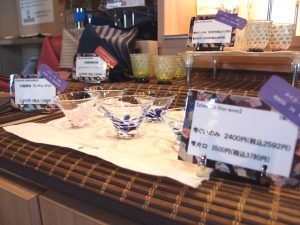 They are a little bit expensive but there are many wonderful items.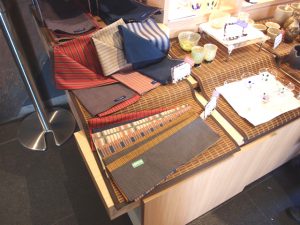 Kawagoe's traditional fabric "Kawagoe Touzan" goods are also available.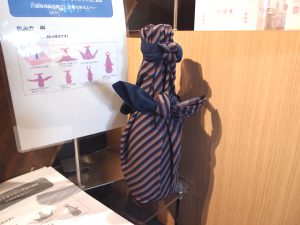 A sake bottle wrapped in Touzan. It's so cool!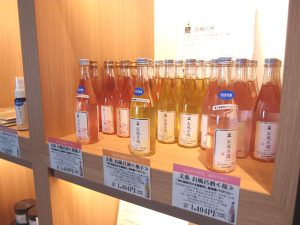 Aroma bath salts made using Bunraku from the Bunraku Shuzo Sake Brewery (Kamio City).
Sake is said to contain ingredients essential for skin care.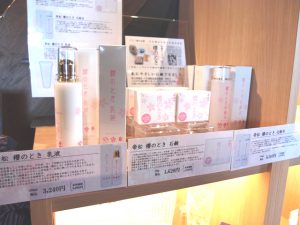 These are milky lotion, soap and face lotion made by Mikadomatsu of the Matsuoka brewery (Ogawamachi).
Its pretty design makes it hard to believe that it's made from sake.
A sake recommendation for when you don't know which one to choose.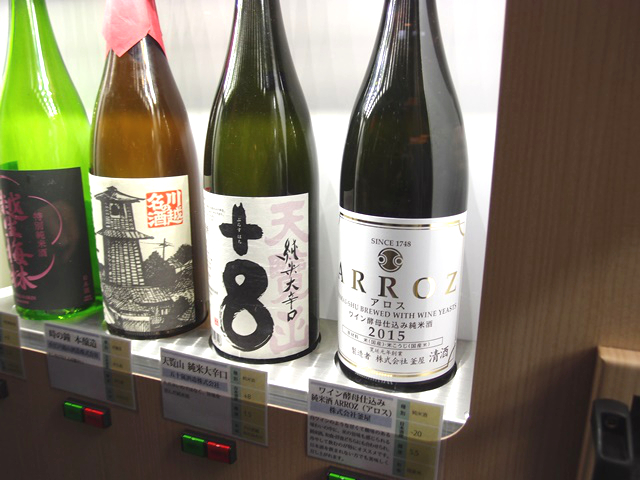 I think there are many people who "don't know which sake to choose to drink when there are 40 different brands".
As a result, I tried making a list of particularly popular brands.
Kinmon Sekaitaka (Koyama honke brewery / Saitama city)
Biwa no Sasa Nami (Asahara Brewery / Moroyamamachi)
Koedo (Koedo Kagamiyama Brewery / Kawagoe City)
Tenranzan (Igarashi Brewery / Hanno City)
Mikadomatsu (Matsuoka Brewery / Ogawamachi)
Chichibu Nishiki (Yao Honten / Chichibu City)
Kikou Hanabishi (Shimizu Brewery / Kazo City)
Shinkame (Shinkame Brewery / Hasuda City)
Kanbai (Kanbai Brewery / Kuki City)
For women and those who say that "honesty, sake isn't really my thing, I just ended here with a friend ..." the "Wine Yeast Prepared ARROZ " is highly recommended.
Unlike traditional Japanese sake, it's very fruity.